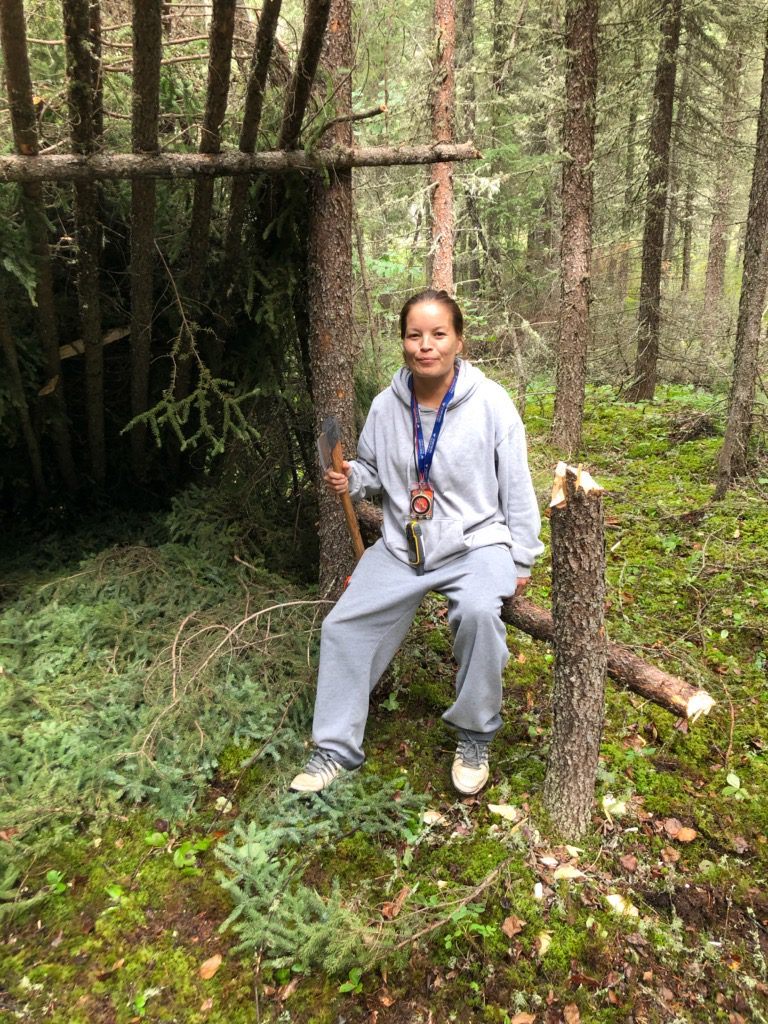 (Wabowden, MB) Desiree Mallett understands the value of learning. The 39 year-old mother of three is a life-long resident of the northern town of Wabowden, where the population hovers near the 400 mark. She's already finished studies in programs including Mineral Processing and Business Administration.
"I wanted something to help out in the long run such as working towards a career in the mining industry," she explained.
Her education came from University College of the North (UCN) and the Northern Manitoba Mining Academy (NMMA), a division of UCN.
Desiree is one of the graduates from the initial Wilderness Safety Training cohort offered in Wabowden. She recounted early program components which included working on resumes and interview techniques with the Life Skills instructor. She is grateful for the opportunity to upgrade essential skills in numeracy, reading and writing with a Workplace Education Manitoba instructor which helped her "get back on track".
"Even the homework assignments were welcomed," Desiree said, "It gave me an opportunity for me to work with my daughters on their homework at the same time."
Industry leader Vale Inc. approached UCN with an idea to help fund a training program for northern Manitoba residents in fall of 2019. The goal was to give students the knowledge and skills to fill some of the anticipated employment opportunities forecasted within the mining and resource industries. 9 months later, including an unplanned pandemic pause in learning activities, Desiree is amongst the first graduates of the Wilderness Safety Training program.
After starting in early February, a decision was made in mid-March to pause the program, prioritizing for health and safety because of the pandemic. Five months later, with a new list of precautions in place, training resumed, leading to graduation for Desiree and six other dedicated participants.
A natural leader in the class, other students would often defer to Desiree during classroom discussions.
"As a woman you can do just as much as a man," she said, "I learned not to be scared because these jobs are not just for men."
UCN's NMMA coordinated the Wilderness Safety Training program to provide basic safety, survival, navigation and camp skills for individuals seeking employment in prospecting, exploration, forestry, surveying or other wilderness – based industries. Courses in first aid, chainsaw safety, ATV operation and safe boating all form part of the program curriculum. Desiree's favourite classes were Basic Navigation and Wilderness Survival where students learned how to read maps, use a GPS and build shelters in the bush.
"There's a lot of good skills and certificates that you can add to your resume," she said. "It is perfect for people who want to get into mining, line-cutters, prospectors, fishing, etc."
As part of the Look North initiative, the program was a collaborative effort from partners including Vale Inc., Communities Economic Development Fund (CEDF), Manitoba Skills & Employment Partnerships, Workplace Education Manitoba, UCN and the Wabowden Community Council. Planning and discussions with other communities have been ongoing with the next cohort slated to begin in Thompson at the end of September 2020.
And as for Desiree, she has her career sights firmly fixed.