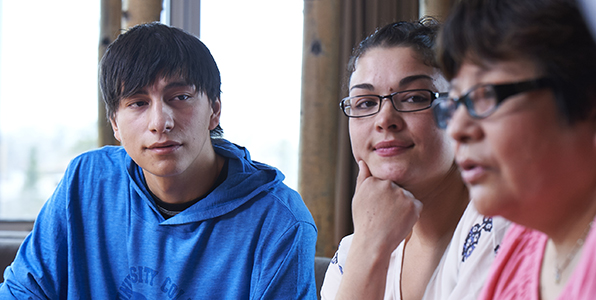 On August 2, 1995, Keewatin Community College announced the renovations, renewal, and revitalization of the university college's Aboriginal Centres. The Centres, which promote student-centered and student-focused supports and activities, are available for and used by all students attending the university college. The Centre provides the university college and the students an opportunity to honour and share cultures,  practice cultural beliefs, and to promote cross-cultural awareness with all students and staff.
Elders Program:  The primary function of the university's Elders Program is to provide services throughout the university college such as counseling, traditional teachings, and information on Aboriginal issues to the university college community. Local Elders also regularly visit the university college to meet with interested individuals and groups.
Counseling:  To provide space for the university college Elder, sponsors, and representatives of other agencies and organization, to meet with the students and provide student services as required.
Resource List:  To provide information on university college programs and services and a list of individuals to use as resource for the university college as a service for students and staff.
Role Model Program:  To promote and encourage the adoption of healthy lifestyles.  Role models can be identified and are often people within the community.
Substance Abstinence Counseling: To provide counseling for all students who have problems with substance abuse.
Family Counseling:  Available for students who are concerned about personal and family related matters.
Circle Meeting:  The Circle Meeting is the traditional way of the Aboriginal people to come together in a respectful manner for the purpose of teaching, listening, learning, and sharing.  This could be some degree of healing to the mind, the heart, the body, or the spirit.  We encourage participants to speak not only from the mind, but also from the heart.