UCN Reaffirms Commitment to Indigenous Education
FOR IMMEDIATE RELEASE
April 14, 2023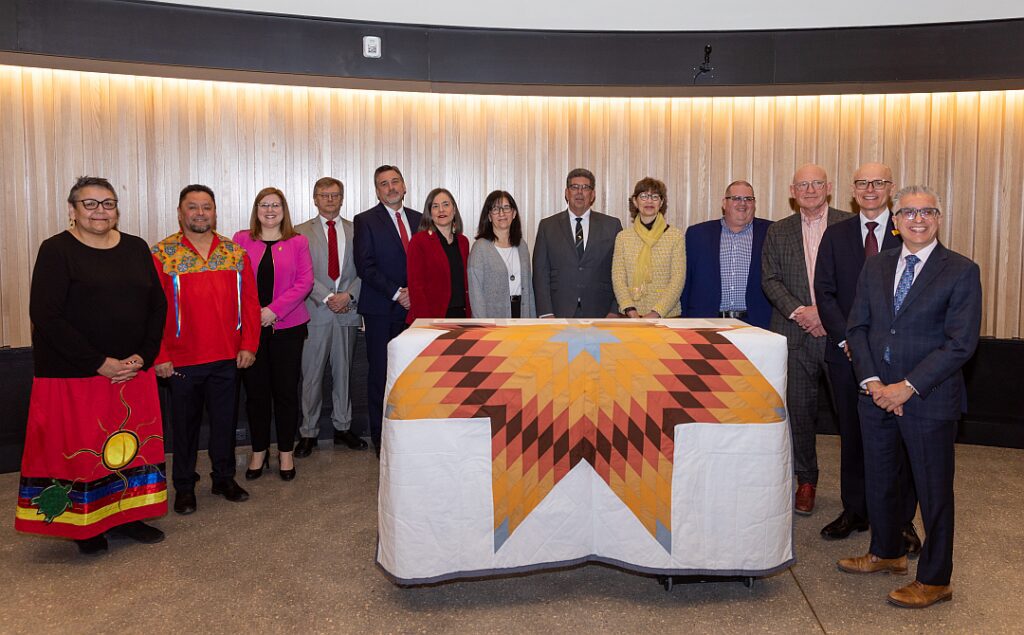 (The Pas/Thompson, MB) – The University College of the North (UCN) is proud to announce its reaffirmed commitment to Indigenous education. UCN joins Manitoba's six universities, three colleges, and the Manitoba School Boards Association in re-signing the Manitoba Collaborative Indigenous Education Blueprint (the Blueprint) on Friday, April 14.
In 2015, the partners signed the Blueprint, a partnership to advance ten commitments informed by the Truth and Reconciliation Commission of Canada's Calls to Action. The Blueprint's primary goal is to prioritize Indigenous education in Manitoba and address barriers Indigenous students face to achieve equitable education.
"UCN's participation in the Manitoba Collaborative Indigenous Education Blueprint exemplifies our ongoing commitment to fostering an inclusive and supportive learning environment that respects and celebrates Indigenous knowledge, culture, and values," said Doug Lauvstad, UCN President and Vice-Chancellor. "As we re-sign the Blueprint, we look forward to continue to work alongside our partners to create a brighter future for Indigenous students and their communities."
UCN has made significant strides in fulfilling the Blueprint commitments since 2015, including increasing access to services, programs, and support for Indigenous students. The institution has also actively integrated Indigenous knowledge, culture, and approaches into its curriculum and pedagogy, providing opportunities for all students to learn about the history of colonization, Treaties, Residential Schools, and contemporary realities experienced by Indigenous Peoples in Canada.
"The re-signing of the Manitoba Collaborative Indigenous Education Blueprint is an important milestone for UCN and our commitment to Indigenous education," said Dr. Ramona Neckoway, UCN Associate Vice-President of Indigenous Initiatives and Reconciliation. "We have made progress in recent years, but much work still needs to be done. Our renewed partnership signifies our ongoing dedication to creating a supportive and inclusive learning environment that empowers Indigenous students and contributes to reconciliation."
The partners of the Blueprint believe that by working together, they can accomplish what cannot be achieved individually, ultimately transforming the legacy of education in Canada for the better.
UCN.ca
CONTACT: Monte Koshel
UCN Director of Marketing, Communications & Recruitment
communications@ucn.ca | 204.627.8244